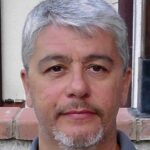 Position: Astronomer
Contact info
Room: B-4W10
Phone: +39 051 6357 382
Email: marco.mignoli@inaf.it
Personal info
---
Curriculum vitae
1987: Degree in Astronomy summa cum laude at the University of Bologna. Thesis Title: "Synthetic spectra of quasars".
1991: PhD in Astronomy at the University of Bologna. Thesis Title: "Astronomical Spectroscopy with optical fibres".
1991-92: Post-doctoral Fellow at the Observatoire de Paris-Meudon, working on ESO optical fibre instruments (MEFOS, FUEGOS).
1993-present: Research Astronomer. INAF – Osservatorio Astronomico di Bologna.
The scientific activity has been mainly focused in the Active Galactic Nuclei (X-ray surveys - Optical/Near IR Identifications of X-ray sources – Analysis of optical spectra & Near Infrared/Optical Morphology – Unconventional AGN) and Observational Cosmology (Galaxy surveys - Deep photometric and spectroscopic data analysis – redshift measurement and analysis – spectral classification and spectral evolution of galaxies).
---
Latest papers on ADS
(based on ORCID, see here how to claim missing papers)
Get a list of all the entries on ADS for Marco Mignoli »