Resources: 
The Loiano Site
At the end of the 19th century, because of the increasing negative influence of city lights and air pollution on astronomical observations, astronomers acknowledged the need to build new observing facilities in remote locations. In order to continue their scientific production, the old observatories migrated and chose new sites in the hills, away from fog and electric lights. Bologna's astronomers chose a hill near Loiano, a small town in the North Apennine ridge, about 37 km from Bologna.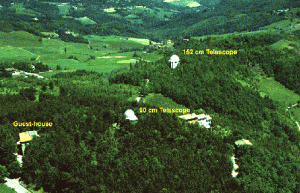 Lat    : 44° 15′ 33″ N
Long: 11° 20′ 02″ E
785 m a.s.l
Via Orzale 16, 40050 Loiano
Bologna, Italy
How to reach the site
The Loiano Observatory is on Provincial Route n. 65 (SP Futa), about 1 km after Loiano, at an altitude of about 800 m a.s.l.
By car, SP Futa can be reached directly from exit n.12 of Bologna's "Tangenziale", going towards Firenze; or, by a longer route, leaving Motorway n.1 (Autosole), direction Firenze, at the Rioveggio exit.
A bus service by TPER-906 or TPER-900 connects Bologna to Loiano with several trips per day from the Bus Terminal (close the Railway station), along the route Bologna-Loiano-Monghidoro.