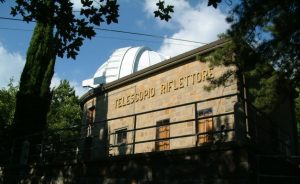 The 60cm telescope was officially established in November
1936, through a bequest by Mrs. Merlani, in honour of her late husband, Adolfo Merlani, who had formerly donated one hectare of land to the University in order to build a new observatory. This telescope, built by Zeiss of Jena, has always operated since then, except for a short period in the years 1944-1945. The mirror was the largest in Italy until the 1.2 m Asiago telescope and 1m Merate telescope were built. After the optical tests, the mirror was classified as "one of the best" for its optical characteristics.
The telescope was built following the most modern techniques of that period, and was dedicated essentially to photography, as were all telescopes at that time. In the years around 1960, it was converted into a photometric telescope. More recently, the optics have been converted to a Cassegrain system with the same focal ratio as the 152cm telescope.
Characteristics
| | |
| --- | --- |
| Optical configuration | Cassegrain |
| Mount Type | Fork |
| Main concave mirror | total diameter 64 cm |
| | useful diameter 62 cm |
| | focal ratio F/3.5 |
| Secondary mirror | total diameter 15 cm |
| | useful diameter 13.8 cm |
| Mirror distance | 168.6 cm |
| Cassegrain Focus | equivalent focal length 1200 cm |
| | equivalent focal ratio F/20 |
| | scale 17″/mm |
| | useful corrected field 40′ |